San Jose Kids Karate Classes
Beginner Kids Karate Classes Enrolling In December!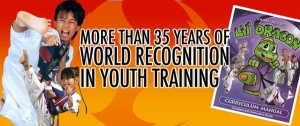 San Jose Karate is The Best Choice for You and Your Kids!
If you have been searching for a way to get your child back on track, learn respect and get into top physical shape, than look no further than Ernie Reyes' West Coast World Martial Arts Association in San Jose CA.
Our San Jose Karate classes are split between age groups, and we accept children as young as 4-years old. All classes have been designed based upon your child's physical and developmental levels.
Best of all, your child will learn key character traits like modesty, courtesy, integrity and respect. From bullying to striving for better grades, and become equipped with a positive "Can Do It" attitude that just won't quit. Older children and young teens learn the traditional values of martial arts, as well as advanced techniques during San Jose Karate.
Benefits that will last a Lifetime!
San Jose Karate offers Traditional teachings that Improve Focus, Attitude and self-discipline!
Master Reyes was inducted into the Black Belt Hall of Fame. His San Jose Karate for Kids curriculum has been recognized world wide for more than 36 years of producing award winning martial art children and performers! Our goal is to develop not only Black Belt Kids in Martial Arts but Black Belts in Life!
Get Your Child Engaged and Motivated right now!
For more information about Kids San Jose Karate, fill out the request info box right now! We'll contact you shortly with information about our amazing programs!
Benefits of San Jose kids karate
We will provide you with a safe and positive environment
We will promote conflict avoidance
Aware of negative peer pressure
Help develop goal setting
Higher self esteem
Promote better school grades
Greater understanding of respect & discipline
Develop a positive and winning attitude
Teamwork and team building
Learn to give unconditional love
They will learn the Black Belt Success System
Classes are fun, exciting, educational, and empowering!